Shady Lane Wine Dinner
June 20 2023 | 6:00 PM - 9:00 PM
134 Ashman St, Midland, MI 48640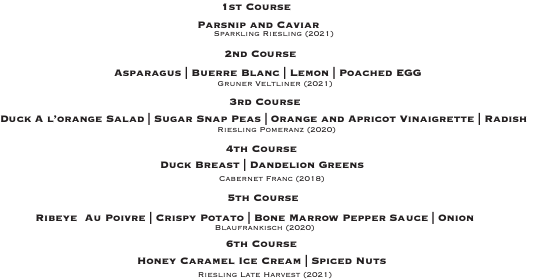 Dear Food and Wine Enthusiasts,
We are delighted to announce a collaboration that promises to be an extraordinary culinary affair. Aster is proud to host the esteemed Shady Lane Winery for an exquisite Wine Dinner. Prepare to embark on a gastronomic journey where farm-fresh ingredients and exceptional wines will harmonize in perfect union.
As advocates of sustainable and locally sourced cuisine, Aster has long been dedicated to showcasing the region's finest produce. We take immense pride in cultivating strong relationships with local farmers and purveyors, ensuring that every ingredient on your plate is of the highest quality, bursting with flavor and goodness.
In partnership with Shady Lane Winery, known for their impeccable craftsmanship and dedication to viticulture, we have curated a wine dinner that will celebrate the artistry of both food and wine. Together, we have meticulously designed a six-course menu, expertly paired with Shady Lane's exquisite wines, showcasing the synergy between our culinary creations and their exceptional vintages.
As you enter our rustic yet elegant dining space, you will immediately sense the harmony between nature and cuisine. The warm, inviting ambiance will set the stage for an unforgettable evening of flavors, textures, and aromas that pay homage to the bountiful offerings of our region.
Each course will showcase the bounty of the season, as Chef Evan Sumrell transforms locally sourced ingredients into culinary masterpieces. From vibrant salads bursting with freshness to succulent meats and indulgent desserts, each dish will tell a story of its origin, crafted with passion and finesse.
But the true magic lies in the seamless integration of each course with Shady Lane's exceptional wines. As you journey through the flavors, you will be guided by the wine maker herself who have handpicked the perfect wine pairing for each dish, ensuring that every sip and every bite elevates the other.
Immerse yourself in the symphony of flavors as you enjoy a velvety red complementing a tender cut of locally raised beef, or a delicate white wine enhancing the delicate nuances of a seasonal creation. Each pairing has been thoughtfully selected to enhance and elevate your dining experience.
We invite you to join us at Aster as we host the Shady Lane wine dinner, a celebration of the local terroir and the artistry of winemaking. It promises to be an unforgettable evening filled with culinary delights, extraordinary wines, and the joy of connecting with like-minded food and wine enthusiasts.
Secure your place at our table, and let us embark on this epicurean journey together. We eagerly await the pleasure of your company for an evening that will tantalize your taste buds, awaken your senses, and leave you with cherished memories.
Sincerely,
Aster